Post by Shun on May 1, 2018 23:52:43 GMT -6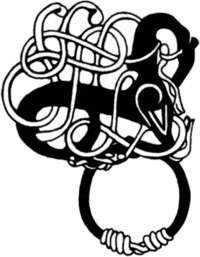 Name:
Sigrdaga (Seeg-Ur-Dag) ((Victory-Dawn))
ALIASES:
Sigha, Dawn, Victoria
POWER LEVEL:
5,000 Base
GENDER:
Female
SPECIES:
Valkyrie (Alien C)
AGE:
- Appears 29
CURRENT
PLANET:
Earth
Description:
This giant of a woman, standing at a height of 6'6 with wavy, blonde hair and bright blue eyes is dressed as if she was from another time. She wears a plate mail with strange carvings embedded in it and a long robe as if it was cold.. Her accent would remind one of old books full of Myths and legends. She carries a spear and shield with her at all times and wears a tiara with feathers coming out from the sides.
---
History:

Once, the only predictable part of Sigrdagr's life was the way she rested. Prior to the fall and utter obliteration of her realm, her patterns had been an uncommon consistency for somebody like her. She jumped at the chance to resign from her duties and retire not long after night fell. After she spent all day learning and realizing what it took to be a genuine Valkyr, she truly liked to nod off watching the sunset blur into the obscurity. One thing was for certain though, she would rise with the sun without fail everytime as it spilled a brilliant warmth over her form, getting ready to take up arms and learn what she could so she would be prepared for her role to come. The sun though.. It made her feel safe and whole, and it wasn't until after she'd fallen that she lost that, as well.
Sigr thought of it frequently, her death after the twilight of her realms existence. Sometimes, she'd remembered letting go; other times, she was convinced that it was meant. She did not know which was the reality, but what did it matter, when everything she'd known about her reality was now destroyed?
What made a difference was the peace it had brought her.. Everything was painfully and blindingly beautiful. The embroidered artwork of the universe was splattered with stars, supernovas splashed in brilliant hues that put even the immense rainbow bridge back in her own realm to disgrace. It was a quiet existence, a hush so delicate that it relieved her throbbing heart after a lifetime of nothingness. It made her feel weightless and free.. After a while, she was not in any case mindful of the feeling of falling in nothingness. The picture of her anguished face and final breath obscured away forever.. The shouts of her kindred Valkyrie blurred delicately.
There were more awful ways to pass on, Sigr had thought. She'd thought about whether there was a place after paradise or simply this void.. On the off chance that destiny were lenient, she would just spend whatever remains of her time everlasting in an intercosmic ecstasy.
The fates were not kind though. Sigrdaga was pulled from her eternal dark slumber and felt her spirit being ripped as she had landed with all of the shock and agony that falling from a great height would bring.. But it did not hurt. At the point when the thundering in her mind dulled and her vision cleared, she could see not any more stunning hues; there was just a little apparition before her. A small ghost..
Sigr would find herself in a place completely alien to where she came from. Called by a lesser power.
'So this is it. I am the remnant of my kind.. my universe. Called by this... This.. soul.'
Her eyes shoot up to the skies,
'T'would appear my activity is a long way from being done.'
---
TECHNIQUES:
Offensive: [N1] hleypa slá (Gallop Strike) Ki-Infused Melee Attack
[N1] ᛉ Algiz Barrier
Utility: Telepathy [UT1]