Post by Xanadu on May 30, 2018 6:58:52 GMT -6
THREAD PL: 23,000
Earth had a history of attracting threats from practically every corner of the galaxy, for almost as long as it has existed. The planet had faced the attacks for those off-world countless times, brought in devious characters multiple times for the traditional intergalactic tournament held on the planet, had to deal with the fallout of messing with time itself, and even fight back against heaven and hell. It would not be an exaggeration to state that Earth had dealt with every kind of problem possible. Every kind except this.
A simple shooting star is what it looked like to most. The twinkle in the sky that appeared at almost exactly midnight garnered a bit of attention from those down below, thanks to its odd black coloring and bits of stardust following in a trail. The children on the outskirts of Ginger Town that were at the "Perry's Pretty Darn Good Tootin' Produce" theorized it was a special variety of shooting star that delivered an extra wish, the trail being bits of the rarest kind of candy never seen on this world. Perry himself took comfort in the child-like naivety of his family but frantically scurried to try to bring them inside for safety. He was an old man who had known only a fraction of Earth's storied history, but he knew that with anything odd looking started coming down from the sky, it was never good. Through it all though, he was a man of courage and took pride in being Perry, and thought to himself he wouldn't let any dangerous stranger try to get near his "darn good tootin'" palace of a farm.
Almost exactly five seconds after he had this thought, the star made its way onto the farm by making impacting with the planet's surface and exploding right after doing so. In an instant, where there was once a successful self-started farm made up of multiple buildings and acres, there was blood and wreckage. The children themselves were more correct then one might expect, however. It wasn't a sweet treat of candy, but something never seen before on this world had just arrived. Burrowing through into the roots of the entire area, the "dust" birthed a monster that had slowly begun to awaken.
Hatred, while maybe a cliche emotion to hang onto, was all that ran through its head once realizing it had landed. It was a primal mind, animalistic in nature, but not limited like many would expect of such a creature. It remembered being on a planet of warriors last time it was brought out, destroying an alliance of planets that had come together to bring it down. They failed, in a way that can only be described as total and almost instant carnage. It chuckled, whatever it was when thinking back on it. The small chuckles ripped beneath the ground and rattled the nearby city, a minor earthquake that in hindsight might come off as a warning. Scanning the area through a vast network of roots it had spread out, the Earth's
current state pleased the beast. It was made to take down planets far beyond this one, and it'd have to take it's time to enjoy wiping out this planet.
Popping out of the ground so only that its head was exposed, it's size apparent with 30 meters being now above ground, the creature welcome the dawn of the morning with unearthing itself and giving out a vicious roar to let those of the planet know what had come.
It was
Squandor, LandLord of the Galaxy,
and a
darn tootin'
monster piece of produce.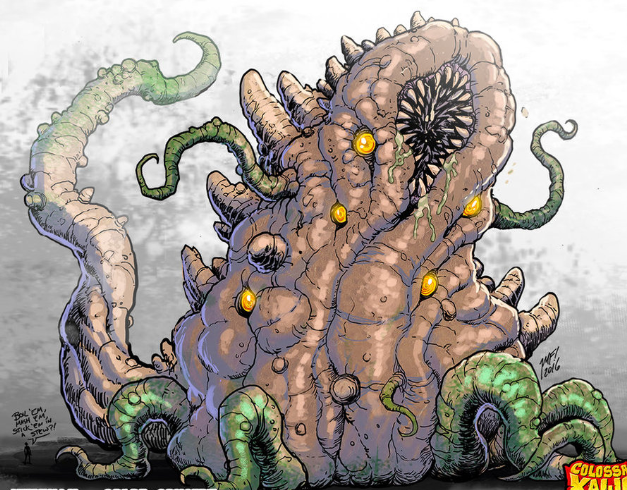 ___________________________________________________________________________________________________________
THREAD PL: 15,000


He was often called a giant throughout his times around the galaxy. Nothing really grand anything, just a giant ass, a giant great, a giant wangbanger, a giant anus, that whole sort of thing. It only ever encouraged the planet turned man to continue what he was doing, because if there was anything he enjoyed it was the complete (or slight, he wasn't picky) misery of others. Xanadu's personal favorite insult was "a giant piece of work", a new bit of Earth lingo he picked up before throwing a local millionaire from one of Ginger City's more thriving neighborhoods into the sky and going into their overly lavish backyard. Laying in a hammock and making his way through their new neverending supply of alcohol (which lacked any simple canned beers, which upset Xanadu who was tired of all the "fancy Earth" drinks), Xanadu watched the ripples in the pool as his mind lingered on why he was compared to an ass so many times. It was while in between the action of rubbing his face to make it turn it didn't have a "butt feel" to it and switching to taking another sip that a loud roar that sounded like one of those puppets he saw on an education programming channel but this time trying to be threatening made it's way to his ears and rippled throughout the building.

Xanadu's whole body was sent flying in the hammock, twirling around until tied up, with his drinks splattered all over himself. Dissipating into a collection of confetti to break free, he gathered his body back and throw his robe on. He had no idea what the hell that sound was, but by relying on his standard problem-solving skills, he knew one thing.

He was going to beat the shit out of whoever it was.