Post by Deleted on Aug 30, 2018 1:46:43 GMT -6
NAME
: Android 77
ALIASES
: Formerly Bita(Beat)
SPECIES
: Android(Formerly a Saiyan)
AGE
: 34
GENDER
: Female
STARTING PLANET
: Vegeta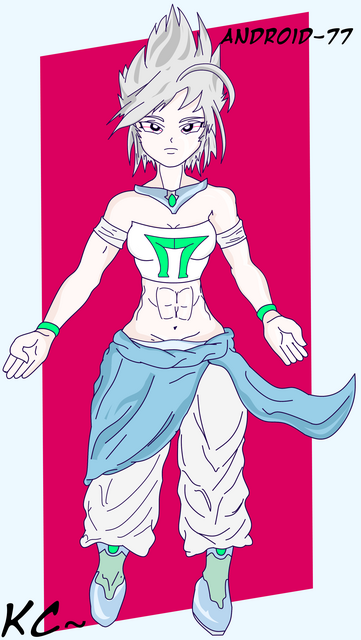 APPEARANCE
: Bita or "77", appears to be a young woman with an athletic build and a wine glass figure. While all pure blood saiyans have black hair, Bita also was but it turned white from extreme stress. She has almost robotic pale skin, black iris' with cybernetic lines peeling through her sclera. Her attire consists of straps, wrist bands, baggy clothing and a tube top that has a logo of a seven and another seven mirrored to it.
BACKGROUND
:
The original Bita was apart of a small mercenary group of saiyans that migrated away from Vegeta after being recruited for a long term mission as (for lack of a better term) bodyguards for scientists on some backwater space rock, it was basically lawless, there was no real government- Bita herself wasn't even sure it was actually a planet- it must have been a moon being used as a base. The group of saiyans she had been aligned with had basically been her family for as long as she cared to remember, When she came of age- she quickly got into the business of using her fighting skills to make money.
Of all the people in the group only a few were close to her, three others to be exact; Karotte,Leke and Kahliel. Karotte was probably the oldest of the group, he was the ray of hope among the trouble makers, Leke wasn't particularly a mean feller, but he did take his career fairly seriously, and even trained Bita- Kahliel on the other hand was the primary best friend of Bita, she and Bita were quite similar as well, even their fighting styles were similar in many ways. They were a fairly large group- enough to work as a private army for anyone that had the money to get their full support, and these scientist types always had someway of getting their hands on a heavy amount of credits, and so they were hired. It was strange at first, the amount of money they were being paid individually and they had seen no action, days of just being watchmen for this strange facility, the only place of shelter on the entirety of the space rock.
Being such a big group, most don't really know each other or wouldn't bat an eye for one going up and missing, but eventually the big 4 were able to tell how their numbers had been gradually declining day after day. They didn't immediately panic- but instead came together to discuss the disappearances- If anything along their line of power had been on the planet they would have known about it, this wasn't some natural space predator, these unsuspected disappearing acts were concentrated- the fingers of course pointed to their employers. Karotte and Leke had volunteered to be the ones to infiltrate the facility to find out what was going down, Bita and Kahliel had agreed of course. They hadn't seen their two friends for a few days, until they finally returned! And not alone. With them was one of their many lost comrades, luckily they were able to recognize them because of a specific encounter with them in past time. They found them hostile and changed- most of their body had been replaced with metal parts tech savvy doohickies, they couldn't make sense of most of it. It was clear whatever was going on, was in direct conflict with their agreement, once again Karotte and Leke had taken charge to confront their employers on behalf of their resignation from the mission. Bita and Kahliel were left to gather as many of their members that were still out off the planet and back onto Vegeta.
Bita and Kehlial were gladly on time, despite Bita having taken some time to take a closer look at their modded ally that was recovered from the facility. Though, before they could make it onto the ship, Bita, Kehlial and the remaining saiyans that weren't under the influence of the facility had been surrounded by what seemed to be every missing member of their group- of course just like the man from before they were changed. Bita and pretty much everyone was aware of the aura taking up the space, it was going to be a fight. Bita and Kehlial were more than able to hold their own against the hordes of their own men- although their remaining allies have heavily cut down to only them, but they were already leagues above their own fodder. Once they finished, Kehlial had suggested they leave the planet for now, to recruit back up- or some type of help, Bita was heavily reluctant, not wanting to leave knowing Karotte and Leke were still in that facility somewhere. As if on cue, they had been approached by more figures, this time the two remaining saiyans recognized two of the figures approaching it was Karotte and Leke...of course with that same change as their other allies had.

Kehlial's teeth clenched in Anger, in disbelief Bita called out to them aware they might not respond but there HAD to be a way to get them back to normal, right? Behind their former friends were their employers a saiyan in a lab coat and some type of alien...or was it an android as well? Bita couldn't tell but Kehlial didn't care much. Bita brought back to her senses by Kehlials anger was ready to come to blows. Unlike their other allies, Karotte and Leke seemed to be able to actually speak and emit some parody of emotion. Bita and Kehlial were mocked as they defended themselves against the oncoming assault from their brainwashed friends. Bita was far to concerned with freeing her friends to be effected, but that same concern for Kehlial only made her angrier, her friends being forced to spout personal banter. The anger began to cloud the mind of the saiyan, and her movements became sloppy with her fighting reckless her limbs were quickly dispatched and broken by their former allies before Karotte had delivered the final and fatal blow to Kehlials neck. Bita had witnessed the onslaught in horror- awakening something inside her, something she wasn't ready to control nor did she have the proper power to maintain it. The scientists before her claimed it to be a phenomenon, all this power pouring out of her, simply from an emotional outbreak!- Bita could barely maintain it, she blinked in and out of sparking currents and an aura hid her visage behind a silhouette . The aura alone was enough to blow Leke and Karotte to smithereens, as well as putting Bita in a coma like state upon seemingly tapping into a power she was nowhere near ready to endure.


Just like that, all the work that scientists had put into hiring these mercs had gone to great use, a trap to create the perfect android, the previous saiyans being used primarily as test dummies, for the final, seventy seventh android to be made. Bita had been captured and preserved, used to make this "perfect Android". When the procedure was done, Bita had been labeled with the 77 barcode and was initialized to take orders. Just as she had awoken for the first time, something strange occured. With the two of her former employers out of the room- a device hidden in Bita's former belongings turned out, creating a hologram of herself. She repeated a code that would override Android 77 and she quite literally became her own master, a pre recorded message began to sound off.


"If that worked, and you are watching this...then listen, I am you- or at least I was...I was fidgeting around with the one guy that had been assimilated and found out there plan to make us all into those mindless droids...I don't have a lot of time to explain much so I will leave you with this, Android, Escape that planet- kill the scientist, his ally and make it back to Vegeta somehow! If this actually happens I don't know if you will ever remember who you were before you were assimilated...so the least I can do is get my revenge on those bastards and you out of there..."
And like that the message would end. The scientist Saiyan would come back to see the former Bita awoken, and there was...purpose in her eyes. The scientist wasn't sure how, but they knew the android had been activated and was given a long term mission. Before he could make away, Seventy Seven quickly dispatched the scientist, and Bita made her way outside- she moved to approach and board the crew ship, but before she could it was shot at from behind her, damaging it significantly, that Alien...thing from before, it wasn't going to let Seventy Seven go without a fight. in the end, 77 came out on top- and defeated her final quarry. While damaged the ship seemed good enough to make one last stop. The former Bita made for Vegeta, but the ship she rode was barely standing on it's last leg. Before she could safely land on Vegeta the ship spun out of control and she ended up landing on...some planet, she wasn't sure if it was Vegeta...or something else?
TECHNIQUES
:
OFFENSIVE TECHNIQUES:
[N1]This isn't a Barrier..!
| A short ranged ki blast that explodes around her instead of an outright attack.
SUPPORT TECHNIQUES:
[SU1]Data Input
| Scanning her opponent, 77 can read the movements of someone to predict their attacks and seemingly dodge it flawlessly. This technique allows you to completely dodge techniques beneath 100% of your PL. This technique uses 1 KP in KP Battles.
[SU2]Data Input+
| Scanning the opponent, 77 can read the movements of someone before to predict their attacks, and dodge them in a seemingly flawless manner. this technique allows you to completely dodge techniques beneath 150% of your PL . This technique uses 2 KP in KP Battles.
UTILITY TECHNIQUES
: