Post by myto on Oct 6, 2018 17:12:23 GMT -6
NAME
: Myto
ALIASES
: N/A
SPECIES
: Bio-Android (Namekian, Demon, Blue Ogre)
AGE
: Over 1000 years dormant, 6 months active
GENDER
: It's too flawless to bother with the concept of gender. Uses male pronouns.
STARTING PLANET
: Namek
APPEARANCE
:
Imperfect Form
Semi-Perfect Form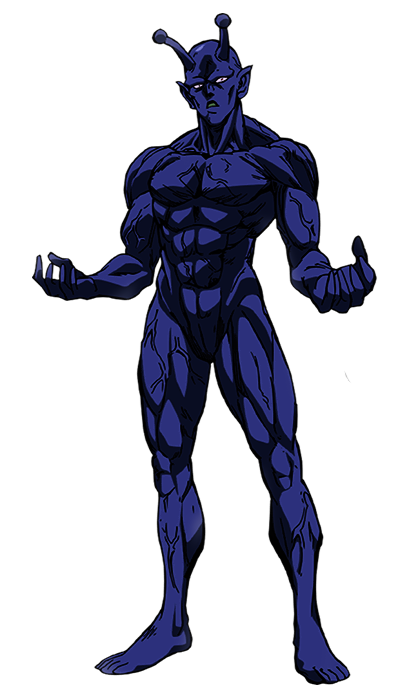 BACKGROUND
: Over 1000 years ago, a brilliant Namekian of the Mazoku caste created Myto as an attempt to create a being without flaws. He was driven by a fierce anger and jealousy directed at the Dragon Clan, who were raised as their superiors. This Namekian sought to flip the balance of power in his own favor through the creation of Myto. Myto was meant to be the force that drove the Mazoku clan to power over the planet Namek. The Namekian scientist went into his lab underground and began experimenting with genetics until he found what he saw as the most flawless creature he could create. The being was meant to incubate for 300 years before emerging, but when the Mazoku Dominion took over, the scientist abandoned his project.
Myto emerged as a result of a power outage within the laboratory. Due to him emerging so late, he ended up incredibly short and relatively weak. Despite this, Myto was still programmed with knowledge of his position as the "universe's most flawless being" and his mission of taking over Namek. Due to this, Myto comes off as arrogant, rude, and somewhat goofy. Regardless of the circumstances (that he is completely oblivious to), Myto is determined to make himself the ruler of Namek and eventually the universe itself.
TECHNIQUES
:
OFFENSIVE TECHNIQUES:
Echo Buster [N1]: The user fires a concentrated blast of sound and ki at the target [33% damage]

Shattering Echoes [V1]: The user fires a concentrated blast of high-pitched sound and ki at the target [33% damage; piercing]
SUPPORT TECHNIQUES:
N/A
UTILITY TECHNIQUES:
Multi-Form [UT1]: Through this technique you can create a copy of yourself dividing your power evenly between yourself and the copy (50% each)

Energy Sensing [UT]: Via some method you are capable of feeling the natural energy of living beings, you have an understanding of the power level of other non-android warriors and can feel the power of the attacks they are using compared to your own. This technique is Passive not requiring activation and uses 0 KP in a KP Battle, Energy Sensing does not work on Androids.