Post by Nashua on Feb 14, 2018 7:50:37 GMT -6
[PTab=General Information]
SAIYAN | 20 | FEMALE | AMBASSADOR | SAIYAN KINGDOM
Nashua is a peace-preferring Saiyan who grew up on Vegeta, like most members of the Saiyan Kingdom. She excelled in combat, again, as most Saiyans tended to, but unlike most members, however, Nashua preferred the path of peace and discussion over the path of fists and swords. While it has her at odds with her fellow Saiyans and allies sometimes, a strong sense of duty to seek out peace is what fuels this Saiyan. Through her feats, she's gone up and down and up again among the rankings of the Kingdom, but currently stands on good terms with most of her allies and is hopeful for a brighter, less violent future shortly ahead of them all.



---

Big ponytail fan

Likes purple a lot
Likes blue too but not as much

Pigtails are for chumps
So are buns


Doesn't like the shoulderpads

Confuses her tail and ponytail sometimes
Way stronger than she thinks
Jumps to conclusions
Also jumps to exercise


Didn't see Star Wars
Or Star Trek
Has seen Spaceballs
Unironically likes Despacito
Sleeps in her armor

[PTab=Relations]
---
STRONGEST HUMAN AROUND | CLOSE FRIEND

"Ramen is practically more of a Saiyan than I am! She's super smart and strong and sweet, and I can't say I trust anyone more than her to do the right thing. ...When she's not on a rage fueled rampage."

Nashua first met Ramen without really realizing it, as she'd been far too enraged in her uncontrolled Oozaru form to really pay much attention to the woman aside from occasionally trying to attack her. After her rampage had been quelled, though, the two established a friendly relationship, which grew greatly during the pair's struggles to get the Dragon Balls on Namek, particularly when the redhead pulled Nashua up from a slump brought on by her own naivety. Since then, they've had plenty a casual encounter, though recently got into a bit of hot water regarding Ramen's sudden attack on the Timeless Lookout, and a tense argument after a fight. Nashua hopes they can get along more in the future, though concerns over both the power Ramen displayed and whether or not she'll be capable of fully controlling it after all she's seen.
EXCITABLE YOUNG HYBRID | FRIEND

"Tarch is a super sweet kid! He's got a long way to go, both height wise and maturity wise, but I think he's shaping up to be a great young man."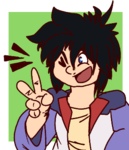 Tarch and Nashua first met for real when the young hybrid ventured out into the middle of Namek, right in the midst of the war for the planet's Dragon Balls. Some shenanigans ensued, and Nashua ultimately ended up teaching him how to both fly and hold his own in a fight in the sky, along with the few life lessons she was able to provide. They've bumped into each other a few times since, and while his power had grown considerably after his time spent on Namek, learning to control it to its fullest effect was one thing Tarch continued to struggle with, as Nashua has seen multiple times. Having encountered both of Tarch's (supposed) parents, the Saiyan woman certainly understands why he struggles so much with his own emotions, but she continues to have the utmost confidence that, with the right guiding hand, Tarch can go on to achieve great things.
QUEEN OF ALL SAIYANS | LEADER

"The new Leader of the Saiyans and someone I'm sliiightly wary of, but so far I think she's been doing a fine job, so maybe there's nothing to worry about at all!"

Summary here
>>@charactertag
RELATIONSHIP STATUS
CHARACTER QUOTE HERE
Summary here
>>@charactertag
RELATIONSHIP STATUS
CHARACTER QUOTE HERE
Summary here
BUDDING RELATIONS
---
Xanathrozza Guar
| The self proclaimed 'Queen to Be'. A friendly presence, if a slightly self absorbed one. Good to have around for tech! |
Good Ally, Trusted

---
Ghost Banzo
| An incredibly powerful warrior of the Saiyan Kingdom, who's always there for a good training session. It's been a while since Nashua's seen him. |
Sparring Buddy, Warm
---
Mollusc
| A powerful Namekian warrior who, while loyal to Porunga to an extreme level, maintains a good head and an unflinching will. |
Pretty Neat Namekian, Warm

---
Chamil
| A vile and powerful demon working for the 'Star Goons'. A murderer and a scoundrel, Nashua can't see herself ever trusting her. |
Irredeemable Enemy, Hostile

---
Auber
| A member of the Kingdom Nashua rescued from Vegeta. A bit brash and eager to fight, but clearly a skilled warrior. |
Impressive Survivor, Acquainted

---
Lord Boreal
| A trickster and a schemer, Nashua learned her lesson not to trust this one, and it's a lesson she'll not soon forget. |
Scheming Bastard, Hostile
---
[/PTab]
[PTab=Thread Timeline]
---
Nashua, one of the Saiyan Kingdom's foreign ambassadors, gets to go out on her first mission: damage control for a world of pandas that was mistakenly fired upon by a Saiyan warrior!

---
When Nashua is kidnapped and forced into an underground Oozaru dogfighting ring, she must conquer the beast within herself to set her and her comrades free.

---
UNBAOLIEVABLE GAINS!
A gravity headband sounds like a useful thing to have to Nashua on her quest to get stronger, though even ten times Earth's gravity proves to be quite the hassle.

---
On the long trip towards Namek, Nashua reflects over her discoveries on Vegeta while getting in some much needed gravity training.

---
---
After crash landing on a snowy mountain on Earth following her narrow escape from the World Trade Fleet, Nashua quickly encounters a fellow Saiyan and assesses the situation.

---
Shortly after Nashua's first landing on Earth, she and another Saiyan named Vegia have a heart to heart chat as they warm up by the fireside in a cabin.
---
WHO SAYS FARMING IS BORING?
PARTICIPANTS:

Ochra

|

Ghost Banzo


While on the search for more Saiyans that survived the attack on Vegeta, Nashua finds a pair of helpful Saiyans that offer her a much-needed training session.
---
Ginger Town seems like a nice and peaceful place to Nashua with friendly people, until she gets herself right in the middle of a battle between two stubborn fools.
---
A group of Saiyans band together on the cold mountain many of them first met on to make not only a base, but also a plan.
---
While training on her own in the Saiyan Kingdom's base, in walks the King of the Saiyans himself, and a flustered Nashua is more than honored to have a sparring match with him.

---
After accidentally activating her Blutz Generator, Nashua goes on an uncontrolled rampage throughout West City, and when another Saiyan joins in, it's up to two heroes to team up and take them down.

---
Nashua responds to a distress call in the Bamboo Forest, and when she arrives, several enemies and allies make themselves known, leading into a full-scale brawl!

---
A request for a sparring match goes out on the Saiyan Kingdom channels, and Nashua eagerly responds, looking forward to both meeting an ally and bettering her combat skills.

---
All Nashua wants to do is enjoy a nice treat at a local bakery, but when a Majin swoops in and eats all the food in the place, Nashua is left playing damage control as she tries to satiate the blob's appetite.

---
When the most powerful of all the Saiyans summons her for a training match, Nashua gladly accepts and goes off to spar with the burly Banzo.

---
The Tenka'ichi Budokai used to be a sacred fighting grounds, but when Nashua checks it out, she finds it infested with evil ghosts and bugs, and one battle-ready monkey.

---
Nashua sees an ad on T.V. promising great riches, and when she goes to answer the call, a motley crew of all sorts gets assembled for a massive treasure hunt.

---
When a small bird loses her robot companion, both she and the robot meet Saiyan and Android alike as the bird tries to find its mechanical friend.

---
DESPACITAIKO
PARTICIPANTS:

Taiko

|

Ramen


Nashua goes on an intense singing rampant as she trains alone in the forest, only for her to find out, much to her dismay and embarrassment, she's far from the only one in the forest.

---
As thanks for them stopping her and Cress from destroying all of West City in an Oozaru rampage, the pair of Saiyans treat Mollusc and Ramen to a beachside lunch.

---
PARTICIPANTS: @youngspice

When her scouter suddenly starts working again after a solid drop on the ground, Nashua detects a strangely high power level from a seemingly innocuous statue in the middle of the street.

---
TOURNAMENT OF BEAUTY: NASHUA VS SYNTHESIA
PARTICIPANTS:

Synthesia


Looking for a good way to hone her skills, Nashua decides to participate in this so-called "Tournament of Beauty". But can she prevail against the beauty of nature itself?

---
TOURNAMENT OF BEAUTY: NASHUA VS MIST
PARTICIPANTS:

Mist


After managing to defeat Synthesia (somewhat by accident), Nashua moves on to the second round, where she faces off against a powerful and never before seen opponent!

---
Nashua eagerly rushes to her King's throne room when summoned for a special and secretive decree, to find an unexpected ally and a daring mission to Vegeta awaiting her.

---
With her mission clear, Nashua safely lands on Vegeta and heads to the castle of Cacumber Capital with one goal in mind: retrieve whatever she can from within its vaults!

---
GETTING THE BAND BACK TOGETHER
PARTICIPANTS:

Xylo Jr.

|

Mollusc


Taking some time to explore the wastelands for survivors, the Saiyan of peace runs into none other than the descendant of the Namekian warrior from so long who changed the galaxy forever.

---
The Saiba Wastes are a dangerous place, and Nashua discovers that firsthand when she comes face to face with the most difficult odds she's encountered yet - and all on her own.

---
MISSION ACCOMPLISHED
PARTICIPANTS:

Vocado


After a (mostly) successful mission and a job (mostly) well done, Nashua eagerly returns to report her findings and find out what her next mission will be.

---
TROUBLE ON THE WHITE HORIZON
PARTICIPANTS:

Lord Chill

|

Queen Kayen


During some last patrols before departing for Namek, Nashua stumbles across a supposedly friendly face and a supposed enemy, though things may not quite be as they seem.

---
---
GUNS AND BUTTER
PARTICIPANTS:

Ramen


Arriving on Namek after a long and self-reflective journey, Nashua heads over to the main base to relieve the command of an old ally.

---
SHOOTING STARS
PARTICIPANTS:

Chamil

|

Majin Mumbo

|

Mollusc

|

Xanathrozza Guar

|

Choco Vixen

|

Auber


It only takes minutes before fights break out between the infamous Star Goons and the Saiyan Kingdom - the first of many to come, for sure.

---
BUTTING HEADS ONCE MORE
PARTICIPANTS:

Cress


After a long time apart, Nashua and Cress finally get back together for a grand rematch to both show off how much they've grown since their last fight!
---
At some local Namekians' advice, Nashua heads to the Mazoku Gravesite, where she encounters an apparently unfamiliar face and has a little heart to heart chat.

---
Xanathrozza, the 'Queen to Be', has suffered a devastating loss at the hands of Chamil, and calls forth the best might of the Kingdom to fill them in on the situation.

---
A radar of her own now in her pocket, Nashua stumbles across the holder of several Dragon Balls, and enters the fiercest fight of her life.

---
While getting some fresh air after a fierce struggle, Nashua is approached by none other than the most powerful and wicked creature in the entire galaxy.

---
It's only when she returns to the base and reports her actions to her superiors that Nashua is made aware of how fatal an error in judgement she's made is.

---
On the hunt for Boreal, Nashua instead comes across a familiar looking rabbit, and has more than a few personal issues, both related and unrelated to the rabbit, to take out her frustrations on.

---
With Ramen to back her up, Nashua confronts the treacherous Lord Boreal in an attempt to get back the precious Dragon Radar he swindled out of her.

---
Acting good on an earlier promise to train with the dejected Xana, Ramen and Nashua team up to help try and get the false queen up to speed with their own power.

---
A deal with the devil is what Ramen plans to make, but when Nashua intrudes on their negotiations, she's less than pleased with the idea.

---
Nashua is summoned outside the base by Ramen in order to get a special warning out to the heroes of Earth, should the worst happen on Namek.

---
When a Saiyan boy from Earth pops up unexpectedly at the base, it's up to Nashua and Auber to keep him from wreaking havoc as he seeks out his mentor.

---
Doctor Bosmika calls for Nashua, in need of help, but when she arrives, Nashua is met with the offer of a deal, and a shocking revelation, as well as some contention with other Kingdom members.

---
Out for revenge, the Arcosian, Lord Chill, fakes a hostage situation in order to lure Nashua into a trap, after his humiliating defeat way back on Earth.

---
The pirate queen, Kayen, challenges the reigning king, Vocado, to a duel for the throne of the Saiyan Kingdom!

---
The stress of both the job and the war weigh heavily on the Earthling warrior, Ramen, and an explosive outburst of frustration from her prompts Nashua to rush to her side.

---
A chilling message from the Fleet scientist, Bosmika, urges Nashua to confront King Vocado and get to the bottom of a potentially terrible deed.

---
The presumed to be dead scientist, Bosmika, makes a sudden and final appearance in Nashua's room to share some parting sentiments before she passes on.

---
With the future past Namek generally unclear, Vocado summons forth the other high ranking Kingdom members to discuss a plan of action.

---
Nashua meets with some of the lower ranking members of the Kingdom, for a change, and has quite the reminder of just how high her power level has become.

---
On the way to the Mazoku Gravesite to pay respects to the fallen warriors of old (by recommendation of the local Namekian elders), Nashua bumps into a face she'd assumed long left Namek.

---
After their last attempt to beef her up didn't go so well, Ramen and Nashua give trying to hammer in some serious training into Xana another go, with hopefully better results.

---
While in the midst of crafting an explosive new tech, Nashua attracts the attention of Tarch, and decides to take the young Saiyan to flight school.

---
Nashua spots a Namekian village in danger of being flooded after a landslide blocks up the river nearby, and meets a wise, friendly sage while lending a hand.

---
The seven Namekian Dragon Balls have been gathered at last, and the three wishes are set to be made before the mighty dragon god, Porunga.

---
En route to Vegeta to finally take the planet back from the Fleet, Nashua and Kayen spend their first time alone together and get the chance to see just how different they are from one another.

---
The war to take back Vegeta from the World Trade Fleet's grasp finally comes to an end in one last battle, with Nashua leading the charge.

---
Some peace and quiet at long last, Nashua takes the opportunity to show her good friend Ramen around the place she used to call home.

---
Back on Earth and ready to hunt for Dragon Ball yet again, Nashua finds herself wishing for something to aid her in her quest from a mall santa.

---
The hunt for the Earth Dragon Balls begins as Nashua finds a signal up on a strange floating structure above the Fukurou Forest and goes to fetch herself a Ball.

---
A power level unlike anything else spikes above the floating Lookout, and Nashua rushes to the scene to make sure the Namekian who lives there is alright.

---
Nashua enters into a fun little tournament, but unbeknownst to her, an assassin out for her head has snuck in and replaced her opponent!

---
A strange letter invites Nashua out to the middle of a large desert, where someone slightly suspicious has some questions for the Saiyan.

---
While on the prowl for some good pizza, Nashua happens to run into her young friend from Namek: the Earthling Saiyan hybrid, Tarch!

---
Nashua receives an unexpected summon from yet another Arcosian she doesn't know, but much to her surprise, this one isn't actually looking to pound her face into the dirt.

---
As the hunt for Earth's Dragon Balls continues, Nashua bumps into none other than the newly elected President, Carro Hofferson!

---
Yet another mysterious message is sent out to Nashua calling her out to a remote location (how so many people keep finding where her ship is parked is beyond her), and off she goes to meet them.

---
After hearing about her from Tarch for quite a while, Nashua finally gets the chance to meet his mother, Kohlra, and have a good talk with her.

---
When things don't go entirely as planned, Nashua decides it's safer if she takes matters into her own hands and goes to see the President again.

---
While taking a nap at the old Saiyan Kingdom base in the Northern Mountains of Earth, Nashua wakes up to find her old King standing before her.

---
The hunt for the Dragon Balls moves slowly, and while kicking back for a break, none other than an old face from Namek comes across the tailless Saiyan.

---
A fierce battle for the Dragon Balls takes place between Nashua and Saizomaru as they unleash powers the likes of which have scarcely been seen on Earth for hundreds of years!

---
Nashua wakes up in a strange place after her fierce battle, but is quickly met with three familiar faces, though some are more friendly than others.

---
After all the stuff that's been going down on Earth, Nashua rings up her new Queen to fill her in on the situation and get to know her a bit better.
---
While testing out the limits and trying to get a better handle on her new Super Saiyan form, Nashua runs into one of the Fleet's top soldiers.
---
Nashua's power is put to the test in a fierce battle against a Saiyan duke and the strongest human being in the universe!
---
Out in the Gizard Wasteland, Nashua bumps into a human trying to harness the power of ki, and does her best to teach them what she knows.
---
At long last, the Earth Dragon Balls are gathered and used to summon forth the Dragon God, Shenron!
---
As things begin to finally wind down, Nashua bumps into the very man who pushed her to the brinks of her strength - in a much more casual setting.
---
The only thing that could possibly make a rainy day worse is a bank robbery. And that's exactly what Nashua ends up caught in the middle of!
---
On her last pit stop before taking off for Vegeta, Nashua runs into the only friendly Arcosian she's ever met, wherein a destructive flex-off ensues!
---
THREAD LINK
PARTICIPANTS:
---
[/PTab]
[PTab=Battle Data / Items]
> [N1|OFFENSIVE] |START| TRUSTY LASER BEAM

: Nashua infuses her trusty spear with ki, then thrusts her spear towards her opponent, with the ki concentrated within the spear bursting forth as a projectile beam. If her spear is not present, her ponytail is used in its place.

>> [UP2|OFFENSIVE] |24k| FAITHFUL LASER BEAM

: Nashua infuses her faithful spear with ki, then thrusts her spear towards her opponent, with the ki concentrated within the spear bursting forth as a more powerful and focused projectile beam. If her spear is not present, her ponytail is used in its place.

>>> [MP3|OFFENSIVE] |32k| UNFAILING LASER BEAM

: Nashua infuses her unfailing spear with ki, then thrusts her spear towards her opponent, with the ki concentrated within the spear bursting forth as the most powerful beam of ki Nashua can muster. If her spear is not present, her ponytail is used in its place.
---
> [N1|BARRIER] |START| TRUSTY DEFENSE SPIN: By infusing her spear with Ki, Nashua begins spinning it in a circle faster and faster in front of her until it moves at a speed so high that it practically becomes a single, solid wall. If her spear is not present, her ponytail is used in its place.

>> [UP2|BARRIER] |56k| FAITHFUL DEFENSE SPIN

: By infusing her spear with Ki, Nashua begins spinning it in a circle in front of herself at even faster speeds than before, to the point that it becomes a nearly impenetrable wall. If her spear is not present, her ponytail is used in its place.

>>> [UV3|BARRIER] |72k| REFLECTIVE DEFENSE SPIN

: Instead of infusing her spear with ki, Nashua creates a solid spear made of ki and has that spin in front of herself as a defensive wall. Once it takes damage, it bursts forth and strikes the attacker with damage equal to its remaining durability.




>>>> [SIG|DEFENSIVE - PURE POWER | RICOCHET] |80k, 88k, 96k, 104k| REFLECTIVE BARRAGE SPIN: The strength of the ki created spear is increased further, and spins itself even faster in front of Nashua to both protect her and release a deadly amount of energy back at the attacker with double the remaining durability once it has blocked an attack.




---
>

[SU1|EVASIVE] |START| TRUSTY AFTERIMAGE

: Suddenly moving at breakneck speeds to avoid attacks, Nashua leaves behind a still image of herself to confuse opponents.
---
> [UT1|UTILITY] |40k| ENERGY SUPPRESSION
: Nashua hides her true power level from opponents by lowering her ki signature to appear weaker. However, this is only a guise, and she is unable to make use of powerful techniques at this level.
>> [UT2|UTILITY] |48k| ENERGY SETTING
: Nashua sets her power level to a lower level than it currently is, and can make use of powerful techniques at the set level to allow herself to have more even matches with weaker opponents.
---
> [UT|MASTERY] |8k| TAIL TRAINING
: Through rigorous training and great strength, Nashua has overcome a Saiyan's greatest weakness, and her tail is no longer a threat to her.
> [UT|MASTERY] |16k| OOZARU MASTERY
: Nashua has overcome her animal instincts through sheer force of will and can now achieve full control over herself in Oozaru form, no matter the circumstances.
OOZARU (x5P)

Through exposure to a significant amount of Blutz Waves, Nashua grows into a tremendously powerful and tremendously sized ape! Thanks to her achievement of Oozaru Mastery, she can maintain full control over her actions in this form, though she still tends to behave a bit more aggressively than in her standard form. Her lack of long term experience in this form often has her underestimating her massive power and tends to lead to her overdoing things.

> Space Ship de Nashua
A used space ship Nashua paid for at a bargain price. Has seen its fair share of crashes and bang ups, but still works like a charm against all scientific and mathematical logic.

> Saiyan Spear
A spear Nashua has had by her side for as long as she can remember. Most of her offensive techs take advantage of her ability to channel ki through it, though she has backup plans if it's not on hand.

> Scouter
A scouter that Nashua bought from a pawn shop for a pretty good price. Its power scanning feature was initially broken, but began working again after Nashua dropped it on the ground pretty hard.

> Saiyan Armor
A set of armor that Nashua received early in her training that is capable of stretching out to incredible sizes to fit her Oozaru transformation. She's grown quite fond of its purple and blue color scheme.

[/PTab]
[/PTabbedContent]