Post by Chip on Apr 21, 2019 21:26:30 GMT -6
Chip was optimistic. He was determined. He was ready. Finally, out on his own, he was going to make something of himself. No more failing classes, no more dead end jobs at burger joints, getting paid less than he should and getting walked over by customers and coworkers alike. No more of the daily grind to try and become a normal, working-class citizen who enjoys paying taxes and buying groceries. No, he was on his own path, to make his own way of life for himself. This random Earthling was going to rise straight up to the top, with years of hard work and dedication, and become the greatest martial artist swordsman fighter man to ever live.
At least, that was the thought process behind leaving the city behind. As it turns out, just wanting to do something is not the same as actually doing said thing. Now a month on his own, Chip has already had to resort to living inside of a cave, eating whatever poor creature happens to pass just to give him the strength to continue surviving. He frequently would have turf wars with the native bear population, trying to force them to keep away from his base camp at night. Whatever he couldn't finish in a meal would inevitably get scavenged whenever he focuses on something else, even for just a moment. For the relatively sheltered person Chip was, it honestly was a struggle to make it by in the woods. What brought him to this point, though? He didn't have money, a destination or mind, or even really anything to his name aside from what he wore on his person, but could it really go this wrong this quickly?
---
[1 Week After Leaving]
Sitting at a picnic bench at a rest stop, eating some fast food he bought with a bit of the Zeni he had on him, Chip wonders about what his next course of action should be from here. He's just been going down roads basically randomly, and nothing's really happened thus far. No random bandit attacks, no damsels in distress, no similarly wanderlust-addled martial artists to challenge, nothing. Honestly, he thought things would be much more action-packed, quickly getting him on track towards achieving something, but he's been little more than a hopeful hobo.
"Uggh, this bites...I just want a chance to do something, but if I can't find anything should I just head back home? I'd get made fun of, probably, but at least I tried, I guess..."
As if fate finally heard Chip's plea for action, a high-pitched scream would ring through the air. Quickly dropping his cheap meal in front of him, Chip starts to glance around, searching for the source of the screech. Eventually his eyes narrow upon a scene of what seemed to be a robbery.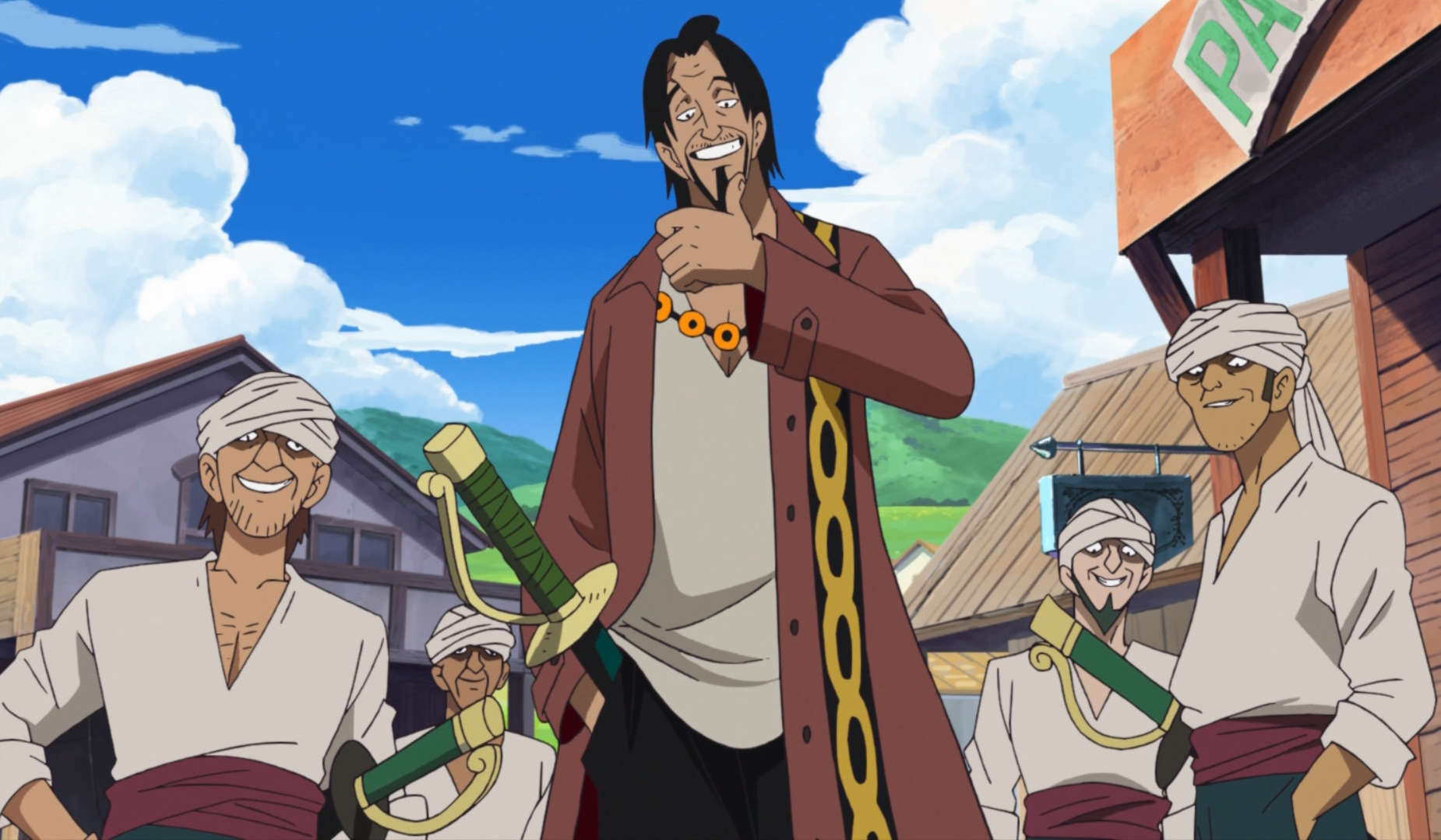 A group of men, the majority of them wearing the same plain, white shirt and baggy pants, the only exception to that being what seems to be the leader in a simple overcoat. The group surrounded a lone woman, a terrified expression upon their face as they start to hand over their purse to one of the brigands.
So, these bandits were going to try and rob this innocent woman in broad daylight? It looks like it was up to Chip to prevent this crime, then. Unsheathing his blade, the youth would begin to march towards the scene, prepared to dispatch of these bandits. None of them seemed to pay any mind to his approach, or didn't hear it, so he would begin to say,
"Oi! Why don't you chickens try picking on somebody your own size?"
Managing to garner their attention, the troupe turns to Chip, looking them over. With his cheap-looking katana and city getup, it wasn't surprising that most of them would simply start laughing at them. The coat-wearing member of the crew would start walking towards Chip, chortling out,
"Oh? You really think you're gonna stop us? C'mon kid, do you want us to help you find your parents or something? Clearly they weren't watching their brat closely enough, and they're probably pretty worried about you. After all, you might get hurt."
As he spoke, he'd slowly begin to unsheathe his cutlass, his lackeys following in suit.
"Now, how about you hand over what you've got and we won't have to make this turn dirty."
The bandits begin to shuffle towards Chip, slowly encircling him. Remaining calm, the Earthling merely tightens his grip around his sword, his eyes shifting back and forth as he watches the group get into formation. From what it looks like, it's about 8 of them versus just himself. Perfectly winnable, he reckoned.
"Y'know,"
he'd mutter,
"I think that you guys are the ones that should give over your stuff. You really don't know what you're stepping into."
"Heheheh, alright, I've heard enough from you. Let's shut this kid up!"
The bandits would all lunge forward in unison, slashing out with their swords towards Chip. They would easily slash through him, seemingly dicing the boy. However, it was pretty odd how little resistance his body put up. It's like they cut through nothing at all. Were they made of paper or something?
That is when the body of Chip would begin to suddenly start fading away, the realization that they really didn't even hit anything coming to them all too late. The group would feel the dull-side of a sword slap into the back of their necks, and begin to fall to the ground one by one, instantly rendered unconscious. Standing beside the pile was Chip, proudly looking down at the brigands with his sword resting on his shoulder.
"Heh, that was easy. Maybe this hero business ain't so bad."
Stooping down to grab the purse out of the pile, he would turn back to the woman, a dumbfounded expression on their face. Triumphantly marching to them, he would place their purse into their hands, saying in an oh-so-humble way,
"You don't have to thank me, miss. It was no problem."
Recalling back to the movies he'd watch as a kid, the next thing he should do is start walking away without saying anything else. Then, word will spread about him and he'll be hailed a real hero, welcomed everywhere he goes with free meals and beds. So, Chip begins to walk past the woman, focusing on what was ahead of him as he walked. This would prove to be a big mistake.
After just taking a couple steps away, he would feel a large, blunt force smash into the back of his head, instantly knocking him unconscious. Waking up sometime in the afternoon, he'd find himself face down in a ditch. His head was pounding, making it difficult to try and push himself upwards. Instead vying to just try to get on his back for now, he'd flip himself over. With a quick pat-down of his person, he realizes that his wallet was gone, along with all of the loose zeni in his pockets.
"Did...I just get robbed?"
With a bit of strain, he manages to push himself into a sitting position, noticing his sword haphazardly laying nearby. With a little glance around, he didn't really recognize where he was, either, though it wasn't as though he really knew exactly where he was in the first place.
"Dang. Ya help someone out, and they just knock ya unconscious and steal your money. That really sucks."
Just to add onto this problem, Beat's stomach would begin to growl, reminding him of how he had not even finished the meal he bought what must have been a couple of hours ago, and without any money, he couldn't just get another one now. How was he going to eat, then? It's not like he was near a city to get a job at, and he didn't bring any snacks on his person.
Then, out of the corner of his eye, he catches a glimpse of a furry creature leaving the underbrush. Walking on four legs and with a large pair of tusks protruding from its mouth, it was pretty clear that this was a boar of some kind. It was very plump, fat even, and seemed to just be sniffing around for truffles.
"Well, when life gives ya lemons..."
Standing upright and picking up his sword, the predatory gaze of Beat falls upon the woodland creature.
"Ya make lemonade."