Dion
May 9, 2019 20:54:57 GMT -6
Post by Dion on May 9, 2019 20:54:57 GMT -6
NAME
: Dion
ALIAS
: None notable
SPECIES
: Saiyan
AGE
: 23
GENDER
: Male
HEIGHT
: 5'10
STARTING PLANET
: Earth
APPEARANCE
: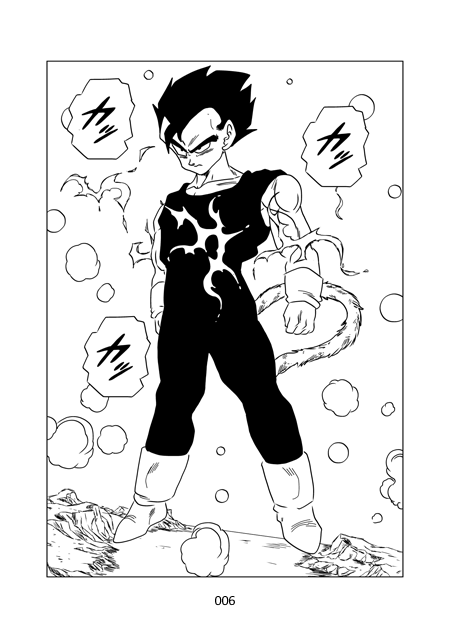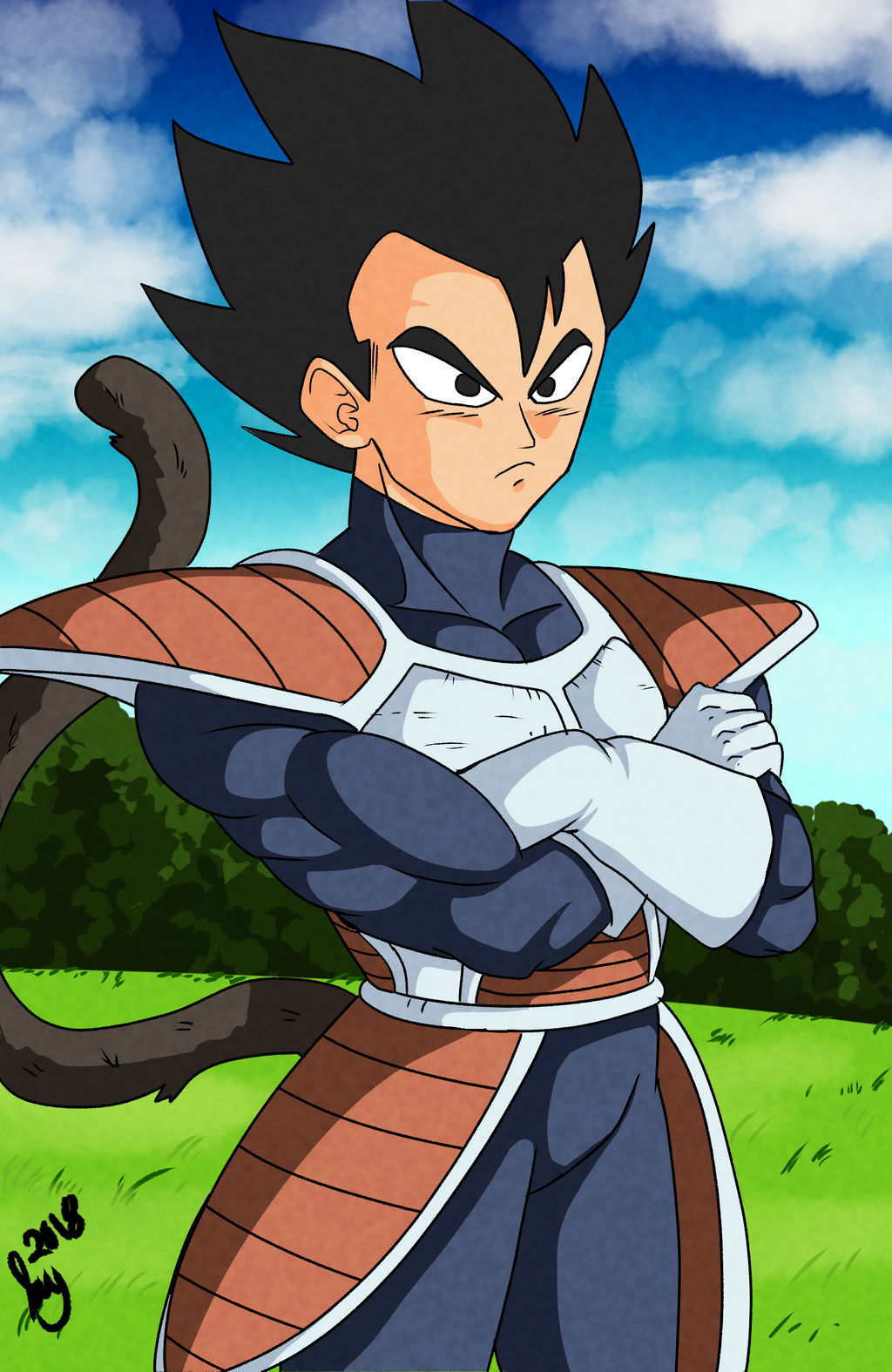 Dion has a lean and sleekly built figure, and is a bit on the more shorter side of his race with his slightly above average height. His skin is that of a more darker shaded peach color, that coupled with his hair being a deep shade of black making him not exactly look out of the ordinary when compared with the rest of his Saiyan brethren. His main outfits, excluding the always changing casual wear he may have on at different times consist of a basic set of Saiyan armor with a blue dogi underneath (shown in profile image) or a more darker colored variant of aforementioned suit- with instead a color palette consisting of dark shades of purple, black, and gray (similar to Turles' Saiyan armor) combined with a black dogi. Both outfits have an optional cape attachment- one red and one black for each individual suit. Sometimes he just goes bare dogi, as shown above. Other than his Saiyan armor, he also likes to wear his gravity training suit into battle as well (pictured above).
BACKGROUND
: Dions childhood can be summarized in one word; uneventful. Since his father became a lazy drunkard after long decades of fighting and constantly seeing his comrades die alongside him got to his mind (not necessarily cruel or abusive, mind you, just incredibly lazy and unmotivated) and his mother was constantly filling in the jobs that her husband for obvious reasons could not fill, the majority of his early life he merely spent his days as any normal Saiyan would- eating, training, sleeping, and whatever else a Saiyan would do at such a young age. When his early teenager years hit however, a sudden realization hit him sorely in the face- what exactly was he supposed to do now that he was approaching adulthood? His family was that of a lower class one, and thus instantly meant they were not exactly well off in terms of economic standing, so Dion felt the strong need to try and provide for him and his parents. Though, his job opportunities were sorrowfully limited. Growing up as a child, he never really had the strong combat aptitude his peers had in comparison. He always had a more lighthearted and informal atmosphere around himself, and didn't exactly feel like risking his life for meager wages even if it was for "the glory of the Saiyan race", so joining the Saiyan Kingdom military or becoming a mercenary doing shady underhanded business didn't exactly pop out at him at all. After a month or two of pondering his options, a bright idea hit him square in the face when he had come across his father after one of his nights of long drinking at the local pub.
He could become a bar tender! It was the most logical thing Dion could come up with at the moment. Saiyans loved to drink, especially after long and well fought battles on planets located far, far away in order to help numb the recently opened battle wounds, and thus there was no limit to the demand for good pubs and taverns on Planet Vegeta, which of course means there's a whole multitude of them to choose to work in. Plus, that meant his father would be much less of a financial burden as he would now have a free supply of whatever drink he'd like from his own son.
So, after a couple weeks of inquiring at multiple bars around his small town, Dion finally found an open employee spot in one of them- and after many months, and eventually years of working at the bar, Dion had become one of the most well known and favored bar tenders in his town. He had chosen a good career path- as his skill with making art out of drinks such as wine and even the simple beer were unrivaled. Word had even reached farther outside of his small hometown- and not only Saiyans, but people from other planets came to his bar to try a bit of his drink. Life was good.
But, as it does with most things, life began to get a bit bland and monotonous- with Dion continuously being exposed to the same thing and mostly the same people every single day of his life. He yearned for something more, of which meant of course he wanted to travel to somewhere else. Somewhere with new people, places, and things- since the scenery of his small hometown was getting to be quite the eyesore to him.
So, after another year to ensure that his family would remain financially stable for however long he will be gone, Dion finally bought a spacepod, packed his things, and left for the planet of which was quite the popular tourist attraction- the blue planet known as Earth.
PERSONALITY
: Dion is much more laidback than the majority of his race, and not quite as quick to battle as the rest of them. But just like the rest of them, he always does enjoy a good brawl. He is very much a sociable and quite the people person, with his many years of experience with being a bartender helping quite a bit to build himself an outgoing and friendly atmosphere around himself and even upon first glance. Dion isn't necessarily a combative genius, as the training he's gotten was only from small skirmishes with childhood bullies, his mother offering to teach him a thing or two in what little free time she had, and the occasional drunken bar fight or two (thankfully, it was usually him breaking them up, but sometimes he funnily enough was the one who caused them) but what he lacks in tactics and plan making he makes up for in pure tenacity and grit. When he wants something, he'll be sure to get it. He is more well educated in general knowledge than actual fighting though. While his moral compass may sway from time to time, Dion has a well rounded sense of morality, and leans moreso on the side of good than evil. At the end of the day, Dions just a guy trying to do his best to please the crowds and sell some drinks.
TECHNIQUES
:
OFFENSIVE/DEFENSIVE TECHNIQUES:
[B1] Absolute Cancel (Ki Barrier, move that comes before Full Counter):
As an incoming attack approaches, Dion takes his middle and pointer finger and extends them both outwards in a Special Beam Cannon sort of way- making them face the opponent with palm facing at the opponent. He then suddenly brings his two fingers downward- causing an invisible Ki barrier to appear and block the incoming attack.
[VB2] Full Counter (Ki Barrier, Damaging Variant):
As an oncoming attack approaches, Dion flattens his hand and points it outward as a hardly visible Ki barrier forms around his hand. He then moves his hand in a slashing motion in any direction in a straight line at the attack in order to block the attack, while at the same time also sending some of the intended damage back at his opponent.
Full Counter [VB3]
Description: Strongest version currently of his aforementioned Full Counter (VB2) and Absolute Cancel (B1). Not much has changed in terms of how he fires and uses the attack other than Dion is now not limited to simply using his hand in that one certain arrowhead shape. Now he is able to use Full Counter from any able part of his body (within reason, he won't be using anything stupid like his head or something).
Full Counter (SIG, Defensive, 100%, Durable); Flattening his hand into an arrowhead like shape, Dion slashes it downward in the direction of the oncoming attack, creating an invisible Ki barrier which is put up to both block the attack and, if able to, reflect some of the intended damage back toward his opponent. It does not necessarily have to be from his hand, but normally is where it forms from. Costs 1 tech slot.
Full Counter (Tier 2 Addition; Durable-er, ha, 133%): You gain +33% to your attack's starting Power Level. If PURE POWER was chosen on the Start Branch, you add the two +33%s to get +66% total. Costs 3 tech slots.
Full Counter (Tier 2 Addition, Heavy Metal): Your DEFENSIVE Power Level is boosted by +x3 for three posts when your SIG is used with this style, including the post where you fire your SIG. Costs 3 tech slots.
Full Counter (Tier 3 Addition, final trait, All For One): Signatures with this style have their power output increased by 33% for each attack that is targeting its user on the turn it is used, capping at +100%. Costs 4 tech slots.
[A1] Galeforce Glare:
With a forceful glare, Dion exerts from seemingly just his gaze an incredibly powerful Kiai, invisible Ki waves being shot directly from his eyes, which can be manipulated to deal damage to his opponent in many creative ways, such as acting as a barrage of blows or as a single, hard-hitting explosion.
Breakpoint Blitzkrieg [A1]:
Description: Focusing all of his power, Dion proceeds to blitz directly, and seemingly, right through his opponent- the velocity of his speed allowing him to slide directly through his foe's very being, appearing on the other side of his opponent in a regularly standing position. Then, after a short delay, thousands of blows begin to riddle the opponents body within an astronomically short time, all highlighted by large yet narrow streaks of silver colored Ki.
Breakpoint Blitzkrieg [UA2]:
Description: Exactly the same, besides the increase in intensity and power.
Breakpoint Blitzkrieg [MA3]:
Description: Again, exactly the same, besides the tremendous increase in intensity and power.
Daiquiri Deadshot [A1]:
Description: Dion focuses his Ki into his pointer and middle finger's fingertips, and after brandishing his hand in the shape of a finger gun, he fires off high speed Ki-beams outward from his fingertips- a heavy parallel to how one would use a regular gun, but with Ki and a hand instead.
Daiquiri Deadshot [VA2, Piercing]:
Description: Exactly the same, however, the blast now has enough power to pierce through protective barriers.
Daiquiri Deadshot [VA3]
Description: Same move but now completed to perfection.
SUPPORT TECHNIQUES:
UTILITY TECHNIQUES:
Energy Sensing [UT]: Via some method you are capable of feeling the natural energy of living beings, you have an understanding of the power level of other non-android warriors and can feel the power of the attacks they are using compared to your own. This technique is Passive not requiring activation and uses 0 KP in a KP Battle, Energy Sensing does not work on Androids.
Bulking [UT]: By some means, usually via a significant increase in muscle mass, you increase your offensive power at the cost of your defenses, this results in an increase of your offensive PL by +x1 and a decrease of your defensive PL by -x3. You must have a transformation that provides at least +x3 defensive PL to use this technique. Using Bulking costs 0 KP in a KP Battle. It must be active for at least two turns before being deactivated (including the turn it was activated on), and can only be deactivated at the end of a turn, after completing all necessary defensive calculations. (1 tech slot)
Multi-Form [UT1]: Through this technique you can create a copy of yourself dividing your power evenly between yourself and a single copy (50% each). Multiforms operate as their own fighters- they manage KP and use techniques as if they were two separate people! They can merge back together after responding defensively to any attacks your foe may have thrown, but take the damage from the most damaged copy and the copy with the least KP. Signatures can only be used once per thread, as well as certain racials regardless of which copy uses the technique. (1 Tech slot)
Tail Training [UT1]: Prerequisite: Saiyan with a Tail, 10,000 Power Level
Through harsh training or sheer willpower you have overcome a Saiyans greatest weakness, your tail is no longer a danger to you in battle. This technique is passive and uses 0 KP in a KP Battle. (1 tech slot)
(25/28 Tech slots in use)