Post by Typha on Jul 15, 2019 20:48:39 GMT -6
NAME: Yudi
ALIASES: Guardian of the Ramen Cloud
SPECIES: Blue Ogre
Racial Trait: Otherworld VIP-When the player character is dead, your ogre can buy Otherworld Passes that allow you to join one thread in the opposite realm of where you were sent to. You need to purchase multiple passes for multiple thread entries in the other world, though.
AGE: 29
GENDER: Male
STARTING PLANET: Heaven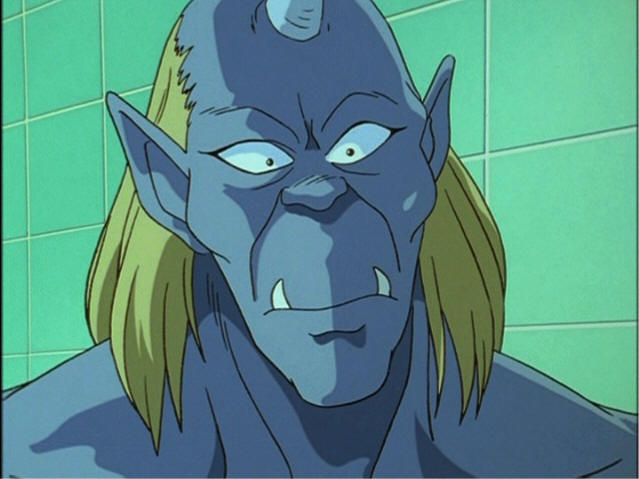 History: Yudi was born in heaven like any ogre. His Ancestors were Ghost Hunters and his Great Grandfather a famous warrior during the times before Hell was made much harder to flee from. His Great Grandfather defeated many hellish souls who tried to escape hell using his body to not allow them to pass. Eventually he dug too deep and died but his family took the sword used to slay him as a family heirloom. After all any weapon that could slay such a great man should instead be used for good. Yudi was trained in the way of the sword and would use the family heirloom to cleanse it of the heinous crime of slaying their ancestor. It was pretty big for the ogre but he proved bad at his job.
Yudi in his ten years of hunting Ghosts or vile souls has been limited. He had been stuck in Ogre school since he keeps failing the basic tests for hunting ghost. How was he suppose to know a normal human was not a ghost. It was not ogre and that was all he knew. Ghosts of course as well but he really had a hard time separating the two. All the non ogre's or Shinjins. Anyway as a result he has been sent on low class jobs and really not too many real fights. Until he Ran into the shadow. His buddies got easily beaten down and he ran. He was shamed but he knew he could never be a great ogre warrior. That when he heared of a warrior called Typha. Apparently he was training under King Kai. His idea was simple get him to train him to beat up the shadow. That didn't go as planned as Typha instead would slay the shadow for him. So he decided to go under his wing and now is working with Typha currently to hunt this powerful Shadow master.
Techniques:
Offensive
[A1] Ki-Infused Melee Attack: Through proper Ki Manipulation, you have gained the ability to supercharge your melee attacks with Ki! The melee attack can be flavored however you like, and mechanically functions identically to a ranged technique. Deals 33% of your current PL in damage.
Utility
Telepathy [UT1]: The basic form of Telepathy allows the user to communicate with those they are familiar with across the planet they are currently on via mental transmission, this can be blocked out by those who do not want to hear the user if the effort to block them out is put forth. This technique uses 0 KP in a KP Battle
Multi-Form [UT1]: Through this technique you can create a copy of yourself dividing your power evenly between yourself and a single copy (50% each). Multiforms operate as their own fighters- they manage KP and use techniques as if they were two separate people! They can merge back together after responding defensively to any attacks your foe may have thrown, but take the damage from the most damaged copy and the copy with the least KP. Signatures can only be used once per thread, as well as certain racials regardless of which copy uses the technique.