Post by Tequi on Dec 4, 2019 16:49:44 GMT -6
NAME:
Tequi
SPECIES:
Shinjin
AGE:
18,524
GENDER:
'Female'
STARTING PLANET:
Otherworld
APPEARANCE: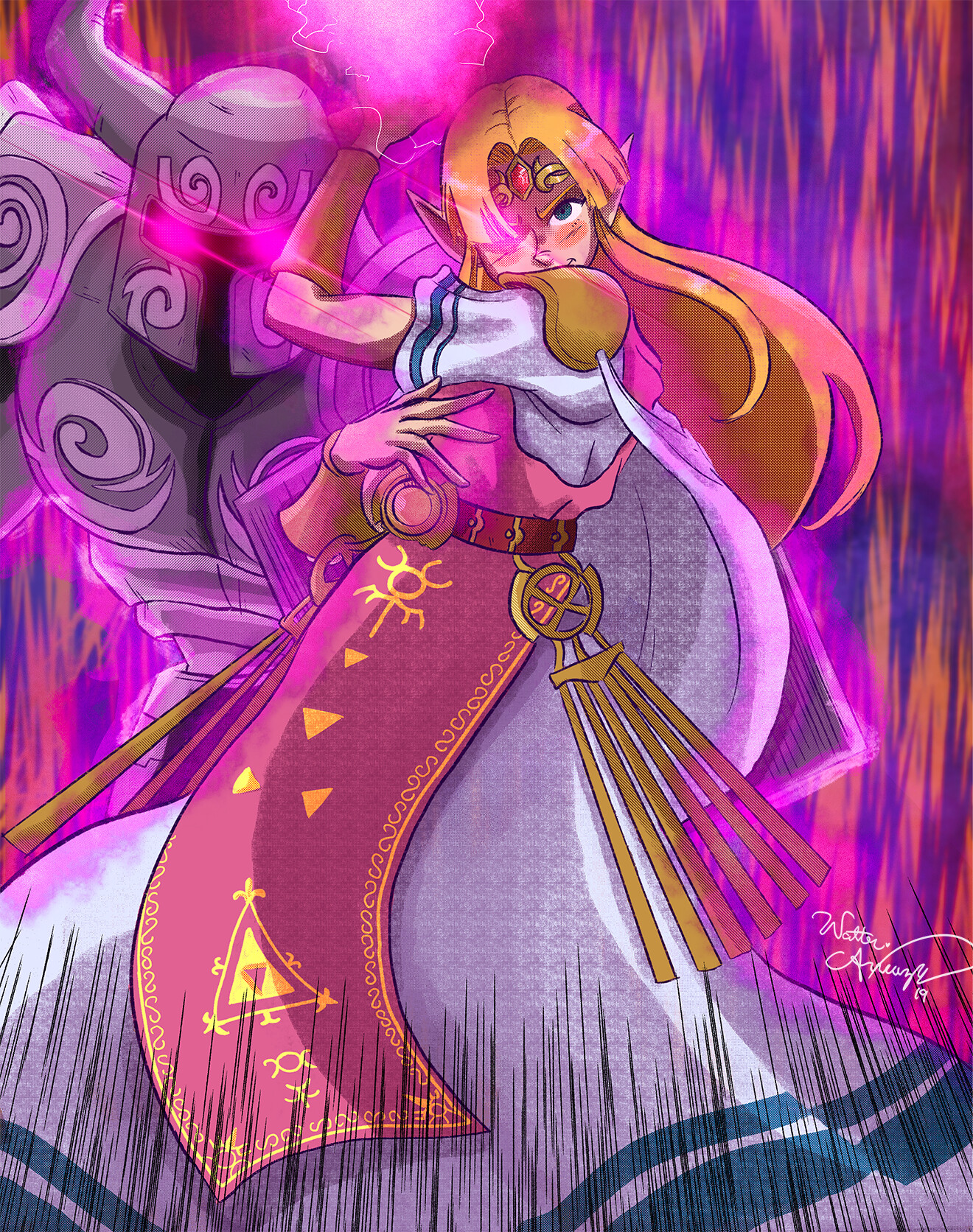 Using Smash Ultimate Zelda as a general appearance reference, specific art is by
Walter Arriaza
BACKGROUND:
Tequi originally hails from the West Quadrant Afterlife Management Division, the sector of Otherworld that deals primarily with the departed souls of those from the West Quadrant of the universe, from the mortal perspective most of her life was spent in a slow monotonous state due to the relatively low risk nature of the West Quadrant, despite this Tequi always secretly hoped that one day something BIG would happen, something truly quadrant shaking that would necessitate the involvement of the Shinjin in the mortal realm.
She knew her hope was ultimately rather unlikely, the bar for what would necessitate such action was so high that even if it DID happen it would more likely require the power of the Supreme Kai's rather than the average Shinjin such as herself, despite this though she trained hard just in case her power might ever be needed, occasionally getting to use that power to put down some riots in HFIL or the odd Demonic attack.
A few thousand years ago Tequi learned that the North Quadrant was becoming a bit of a 'problem' in the grand scheme of things, power readings through the roof, galactic threats every few decades, and at one point a UNIVERSAL threat. It all however ultimately was resolved, but the knowledge that the North seemed to be a hotbed of activity stuck with her and so she put in a request for a transfer to the North Quadrant, hoping that even with the eternally slow grind needed to have her move approved the North would still be the place to be in a few hundred years.
Tequi eventually did receive her transfer... just in time for what was looking like another ramping up into galactic danger levels to completely cool off as the Quadrant settled into peace, the 'Saiyans', 'Namekians', and 'Earthlings' all settling their differences amicably enough.
On the one hand she was happy the mortal's were not killing each other anymore, but part of her REALLY wished it could have lasted just a little bit longer, just enough for her to try sneaking down their to help 'sort things out' to 'help avoid another universal threat' and perhaps just to have a bit of fun.
Her life soon returned to the same monotony as the West... until 'recently' it seems the North just refused to stay dormant, and with things getting wild enough that a few other Shinjin were finding themselves able to slip through the cracks Tequi hopes to do the same herself, to test her magic against the might of the mortals!
[TECHNIQUES]
[5/5]
ACTION TECHNIQUES:
[] Guardian STRIKE! [A1]: Tequi summons a suit of armor empowered with her magic to perform a light strike at an opponent for 33% of her Offensive PL at the cost of 1 KP.
[] Guardian CRUSH! [UA2]: Tequi summons a suit of armor empowered with her magic to perform a powerful strike or series of light strikes at an opponent for 66% of her Offensive PL at the cost of 2 KP.
[] Guardian ELIMINATE! [MA3]: Tequi summons a suit of armor empowered with her magic to attack her opponent for a brief moment either with a powerful singular attack or rapid series of lesser attacks for 100% of her Offensive PL at the cost of 3 KP.
[]
[]
[] Guardian HELP! [B1]: Tequi never quite intended to name this summoning spell this way, but born out of a desperate need for protection it was named such. This technique allows Tequi to summon a suit of armor that will take a strike intended for her, the armor can sustain an impact of 33% of Tequi's Defensive PL and functions as a barrier reducing the overflow by 50% or 25% depending on its power compared to her opponent and costs 1 KP to use.
[]
[]
SUPPORT TECHNIQUES:
[]
[]

UTILITY TECHNIQUES:
[] Magic Materialization [UT]: Tequi is an adept conjurer, while her combat abilities focus on the summoning and manipulation of suits of armor she is capable of a far more broad level of creation magic.
[]
[]

SIGNATURE TECHNIQUES:
[] Action:
[] Item:
[] Assist: