Faeth
Apr 5, 2020 6:31:04 GMT -6
Post by Ares on Apr 5, 2020 6:31:04 GMT -6
Species:
Mythic Dragon (Alien B, Transmit)
Age:
127 (Considered young)
Original Image From: Bagoum Card Game
Faeth is a young Mythic Dragon who is the daughter of a long line of alien reptilians who flew to earth hundreds of centuries ago. Her kind are an alien species, and are not true dragons such as Shenron or Porunga. The species she stems from more or less resembles western dragons. Her people typically dwell in small tribes and are nomadic in nature. Unfortunately, due to the increasing human presence on earth, most of her kind have gone into hiding.
Faeth ran into Ares early in his journey, and while he had initially attempted to 'slay' her, she noted he was the first being to express sympathy for her kind. Him being a kai also helped smooth things over, of course. Now, she serves as his tour guide of sorts. Thankfully, she's versed in the modern trends and styles of human culture. Something Ares lacks.
Techniques:
[A1] Energy Claw:

Faeth's hand becomes surrounded by a purple claw-shaped aura of energy. hitting a target with this claw deals 33% of her current PL in damage.
[UA2] Mouth Blast:

Faeth condenses energy in her mouth and expels it in the form of a powerful purple beam. This deals 66% of her current PL in damage.
[MA3] Energy Breath:

Faeth fills her lungs with ki and breathes out a powerful gust of ki-infused flames towards her enemies. This deals 100% of her current PL in damage.
Traits:
[li style="text-align:left;"]
Transmit [Moderate]:
Whether you upgrade your ship or flat-out teleport elsewhere, You may ignore travel time once-per-month to a planet. You are allowed to make a stop in space along the way. You can only travel by yourself. [/li]
[/ul]
Transformations:
Dragon Form (x4):
Faeth's true form is that of a massive flying reptilian. In this form, she had black scales, glowing purple eyes, and massive wings. She also grows greatly in size and receives a significant power boost.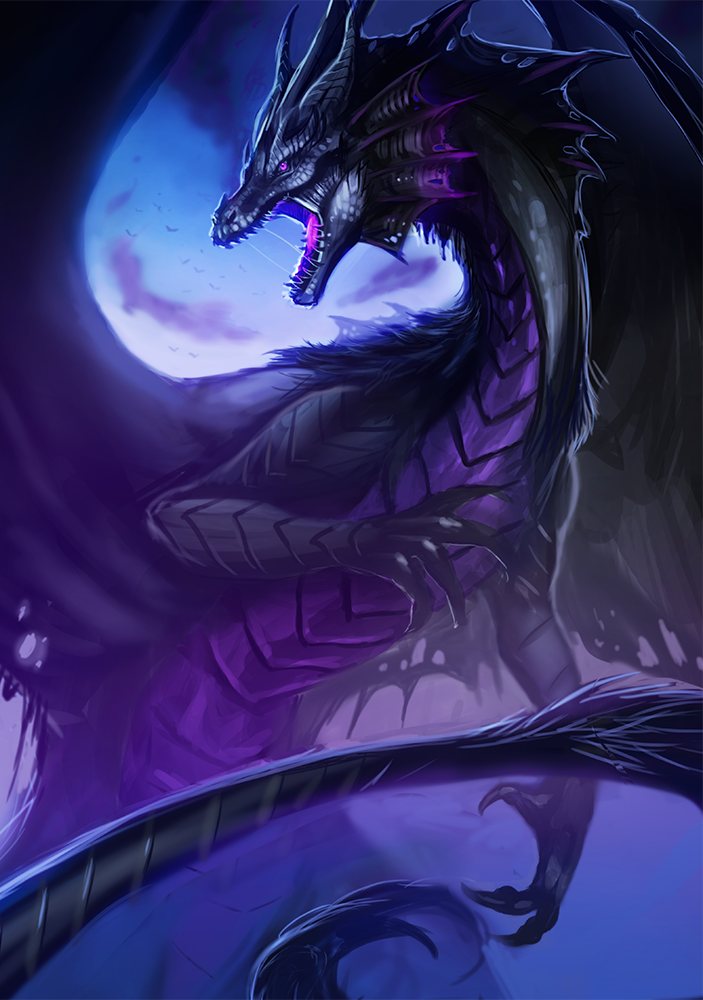 Original Image From: Dragnarok.com (Author was unlisted)
[/div]