Calzon
Jun 9, 2020 7:36:43 GMT -6
Post by Calzon on Jun 9, 2020 7:36:43 GMT -6
NAME: Calzon
ALIASES: Mr 58
SPECIES: Android
AGE: 1, 25 mentally
GENDER: Male toaster
STARTING PLANET: Earth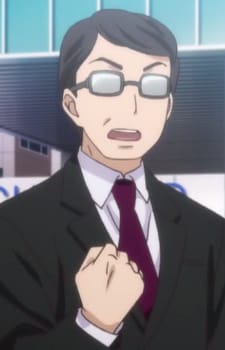 APPEARANCE: Mr 58 (Or Calzon) is designed to look like your standard, middle-aged Salaryman. He
usually wears a suit with a Maroon tie and a pair of glasses that he admittedly does not need.
BACKGROUND: Calzon, designated Mr 58, was created by Militant Technologies, a small start up that's main claim to fame was the creation of destructive and powerful androids, supposedly designed to defend earth from threats. However the group was secretly funded by WTF. Calzon's true purpose was to be a possible mechanical soldier for the fleet, the original (well 58th but the only one that actually worked.) prototype developed for the fleet, however due to cost restraints the Android soldier project was cancelled, and Mr 58 (as he was then called) was repurposed into a salaryman for the company's more earth-based business, a position he greatly preferred to his original purpose, especially after his more combat based program was purged. Unfortunately when the fleet went under, so did Militant Technologies. Left, like roughly 100 other employees, jobless and, unlike the other 100 he was without any true identification and, due to his original purpose, limited marketable skills for a job in an office environment, Calzon set off to gain something he's wanted for quite some time, a quiet, simple life as a salaryman, like he had during the later half of his year at Militant. But so far, no takers.
TECHNIQUES:
OFFENSIVE/DEFENSIVE TECHNIQUES:
Doom Beam:
(A1) A powerful beam of red artificial Ki that Calzon fires from his eyes. His main method of attack.
Charged Strike:
(A1) Red Artificial Ki surrounds Calzon's fist, making his next hit Devastatingly powerful
UTILITY TECHNIQUES
Armor Drop (Bulking):
(UT) Calzon transfers power normally reserved to maintaining defenses to increase his Maximum destructive output. This takes the appearance of red energy pouring off the android in a visible glowing Aura