Post by Kiwano on Jul 8, 2020 9:41:27 GMT -6
NAME
: Kiwano
ALIASES
: The Ogre (His wrestling persona)
SPECIES
: Durian (Ayylien A)
AGE
: 30
GENDER
: Male
STARTING PLANET
: Beppa Danger Zone
APPEARANCE
: 6'5, 320 Pounds. Art is an official work from Akira Toriyama, an alternate appearance of Dodoria.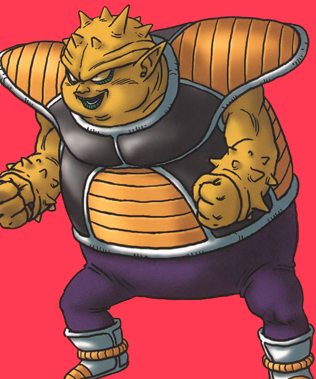 BACKGROUND
: Kiwano was born to two decorated soldiers of the World Trade Fleet. Neither wished for him to have a soldier's life, and instead heavily insisted he follow his own dreams and way of life. Though they were strict and stern, he was well taken care of. He received a good education and he often spent most of his time with his father, who led by example and taught him dedication and integrity most of all. He never had many friends growing up, choosing instead to become absorbed in his hobbies. He enjoyed hologram miniature table top war games most of all (which got him branded as a big fat nerd by other kids, not to mention bullied), but even that didn't come close to his love for wrestling and combat sports. From a young age he would spend hours dreaming up mock wrestling matches, and eventually he caught wind of the Galactic Wrestling Federation and between his game nights this became most of what ate up his time. Eventually he decided to ground his big dreams into reality and decided he wanted to enroll in a martial arts club at his school. His parents were all for the idea; self defense was never a bad thing to learn, though they didn't expect him to take full advantage of his size and take up sumo wrestling.
He took to the sport like a duck to water, impressing his instructors regularly. He eventually even went on to compete and got himself a few trophies to show for it. He wasn't a weak little pushover anymore; his bullying suddenly came to a grinding halt when he started mixing in his inspiration from pro wrestling into his sumo. Dubbing his new method of martial arts Pro Sumo, he unveiled it in full effect against one of his more notorious bullies by burying him ankle-deep into a trash can with his best improvised power bomb. The stunt got him in trouble, but taking his revenge made him feel like a brand new person. He continued his education and refining his new personal combat style all the way up until his graduation, and decided to make a career out of Pro Sumo. He did everything he could for exposure, trying his absolute hardest to be scouted by the GWF. When the day finally came that he received a letter for a tryout, he packed his bags and set off. He quickly tore his way through the other contestants until arriving to his final match; a hard-fought one at that, but he was victorious in the end.
He spent several years competing in the lower leagues until he finally got his shot at the big time. With a cult following of fans at his back, there would be no stopping The Ogre now. Shortly before the date of his match, he received news that his father had been re-drafted but still had time to see Kiwano compete before he had to enter service once again. As the match dragged on and Kiwano lost ground, it was his cheering fans and most of all his parents in the VIP section screaming his name that brought him the will to win. He was now a full-fledged GWF wrestler and a full on celebrity. To this day some still recognize him even without his mask. He would walk through stores and see figurines of himself on the shelves; he was offered the chance to be in fighting games (and gladly took them). He was living a life he never knew he could live.
That is, until he received the news his father died. He had been under orders to assist a fledgling Arcosian, one of the lizard's first operations since being practically born into his position of command. His tactics were flawed, and he had too much to prove. Mistakes were made, lives were lost, and the mission was a failure. When questioned, he blamed Kiwano's father. He argued the old Durian was past his prime by far, and rusty since retirement. Arguing the case and saving his career while staining the young Arcosian's is what got him killed the next day. With revenge burning in his chest, much of the light left Kiwano's life that day. Kiwano's career fell to shambles after he'd himself been drafted after the news, his spot in the league empty. It didn't take him long to realize he would never be able to touch the scum-sucking reptile responsible for his father's death as a member of the military, so he finished his tour of duty in short order and then left the society he once knew to become a mercenary; better to serve yourself then die for a lying serpent's career.
Now, he piles up his funds and hones his power while he searches for a worthy outfit to help him get the revenge he hopes will put his heart at ease, and justice for his father.
TECHNIQUES
:
OFFENSIVE/DEFENSIVE TECHNIQUES: A1s, UB2s, MA3s, VB2s, VA3s, and so on are all included down here in this section.
[A1] Muscle Buster: Kiwano's time in competitive sports has led him to create his own hybrid fighting style he calls ''Pro Sumo'', a combination of Sumo and Professional Wrestling. The discipline makes excellent use of his bulk and in combination with internally charging his ki, his strikes and grapples are capable of inflicting 33% of his PL in damage. Strikes find their mark with more force, and wrestling moves add more velocity and strength to their impact.
[UA2] Mega Muscle Buster: A more powerful and balanced flow of energy results in double his powered-up fighting style's original output. Mega Muscle Buster is capable of inflicting 66% of his PL in damage to an opponent, whether through even more powerful strikes or even more punishing grapples. Strikes now find their mark like hammers, while wrestling moves are executed at breakneck speed and impressive power!
[B1] Bronze Barricade: Kiwano's natural inclination toward using his toughness to see him through trouble instead of his race's sluggish speed created this technique. He is capable of loosing energy from each pore of his large body after a defensive brace, coating himself head to toe in protective energy. He can protect himself with power equal to 33% of his current PL. If an opposing technique beats his barrier, and he is within 60% of the attack's PL, the damage is halved. (IE: If a Ki Barrier had 2,000 PL, and was broken by a 3,000 PL attack, the bleed-through damage would be 500 PL instead of 1,000). If he is lower than 60% of the incoming attack, the damage reduction is only 25%.
SUPPORT TECHNIQUES:
UTILITY TECHNIQUES:
ALIEN A
DIMINISHING, SLUGGISH: You're slow as molasses! They are unable to use Afterimage techniques, though barriers are still viable. This can be trained away with the use of a Technique Slot at 40,000 PL. Durians are typically large-framed, big-boned, and heavy-set. This makes them naturally slower than most other Species, but with training they can learn the best ways to maneuver their bulk.
MODERATE, DURABILITY: Your character is hardened and strong enough to survive in the void of space. Tough as nails, you can reduce the damage of a taken attack by 33% once per thread. Durians' unique body structure affords them the benefit of extremely thick and hardened bones, as well as hard spiky protrusions across their bodies and a tough scaly hide of skin much like tough leather. In the thick of combat this makes them difficult to wound. Their massive bodies afford them a higher lung capacity than many other species, allowing them to survive longer without oxygen.
ACE, VIGOR: Hardened and powerful, you can gain +x2 to your Offensive PL once-per thread for a single post. Durians with military training are often placed alongside the rank and file as shock troopers, striking enemies like a battering ram. When the going gets tough, they are capable of digging deep to bolster their energy but only briefly, skyrocketing their output.
TRANSFORMATIONS:


Durian Golem (x2) : When Durians become adjusted to their energy, they can gain access to this form by internalizing their ki and focusing it into their bone structure. The higher output of energy increases their power twofold, and their skeletal system becomes much more dense. This makes them tougher and able to hit harder, but costs them speed by making them heavier, leading to their Sluggish weakness.