Post by Deleted on Sept 14, 2020 11:22:49 GMT -6
NAME
: Korr
ALIASES
: Spectre of Vengeance and Malice, The Blue Devil
SPECIES
: Ghost
AGE
: 106 [appears 18]
GENDER
: Male
STARTING PLANET
: Earth
APPEARANCE
: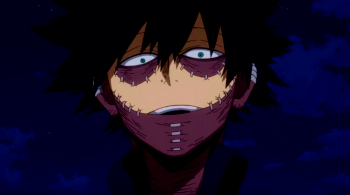 [Face claim is
Dabi
from
My Hero Academia
]
One glance at Korr would send any rational minded being running in the opposite direction. He appears much like a normal Earthling at a distance: medium height with a slender build with dark, spiky hair and dark clothing to boot as well as facial piercings.
There is, however, a distinct aura about him: blurred edges should one stare long enough and an ethereal blue spirit energy for those capable of seeing beyond the natural that hovers and coils around him like blue flames though they possess none of the searing bite of true flames.
Large portions of his skin appears burned and stitched, remnants of the horrific accident that mutilated his appearance for the worse. Lastly, his cold blue eyes seemed empty and hollow, piercing right through to one's soul.
BACKGROUND
:
Once he had a name. A name and a past. Most of it he cannot remember since his death, and his most recent memories are filled with sulking orges, acidic skies, and the sulfuric nature of HFIL.
Of what he can remember he died as a bedraggled youth, dragged in with a local bandit crew. He had nothing and he had no one: they found him abandoned in a ramshackle hut near the sea. He was little more than skin and bones, half-starved and delirious from hunger and fear.
A shivering, sniveling wreck.
With fingers half gnawed from the rats nipping at his digits any time he fell asleep, he reached out toward the bandit crew for help. He was weak, and would not survive very long. The bandit leader, Crow, had mercy. He and the Black Beak Boys had left many an orphan and widow a shattered, bloodied mess but Crow had mercy on him.
Perhaps he could sense that this one had a destiny before him.
Korr was brought into their ranks the way every Black Beak Boy was—beaten within an inch of his life as a dire warning should he ever betray the crew or their interests. After that, he was brought in as a brother-in-arms. Problem was, Korr was soft. Crow could spit and yell until he was blue in the face, Korr would always draw the line at hurting others.
He was sneaky, perfect for a scout and a thief, but he refused harm others. This was viewed as a sign of disloyalty to the crew, and Crow devised a plan to teach Korr an invaluable lesson.
It was supposed to be a simple job: a village smash and grab, robbing peasants of their wares and getting out before the townsguard could be roused. Korr found himself trapped in one of the houses, the doors and windows barred from the outside by Crow and his men.
Crow lit fire to the hut, setting it ablaze with its occupants inside. It was meant to be a scare tactic—to scare Korr into blindly following orders, but unbeknownst to the group, the home doubled as storage for the neighboring barn and was filled with flammable hay, burlap sacks, and the like.
In those final moments when the last dredges of oxygen dissipated as a smoke-filled hell encompassed him around, Korr realized a startling truth: it was his weakness that brought about all the suffering in his life. He'd been abandoned by his parents because he was too sickly, and now murdered by the Black Beak Boys because he was too weak.
Rage filled him, consumed him, swallowed him whole long before the fire claimed his life. Such rage continued to fill him as his spirit went to Other World and, due to his life as a bandit and crook, Yenma sentenced him to HFIL. He wasn't permitted to keep his body, yet his spirit could not seem to be purged of its rage.
It took decades, but that rage soon lent itself to him as power and though he possessed no real martial or spirit ability in life, he grew in such power in his undeath. Soon he could take a form—the form he had in life, albeit forever changed by the fire and by his spectral rage.
Now Korr seeks one thing: revenge. That revenge will only be assuaged once he finds the men he once called his brothers, and exact revenge upon them. A spirit of vengeance driven by rage, Korr continues to escape the clutches of the ogres and manifests upon Earth where he seeks out clues to find Crow.
He is no longer the meek, mild orphan he was before but a spirit driven by his hatred of humanity's cruelty and one who is not above punishing those who deserve his rage.
TECHNIQUES
:
OFFENSIVE/DEFENSIVE TECHNIQUES:
Spectral Flame [A1]
Korr fires a blast of scorching blue flames from the palms of his hands, seeking to burn and damage his foe(s). [Deals 33% of your current PL in damage.]
Flaming Pillar [B1]
A pillar of flames erupts around Korr, acting as both a deterrent and a barrier to block or reduce damage from an enemy attack. [Protects you with power equal to 33% of your current PL. If an opposing technique beats your barrier, and the Barrier user is within 60% of the attack's PL, the damage is halved.]
SUPPORT TECHNIQUES:
Spectral Shimmer [SU1]
Korr takes on an intangible quality, causing any attacks directed at him to pass through his being entirely for a brief period of time. [This technique allows you to completely dodge techniques beneath 100% of your PL. This technique uses 1 KP in KP Battles.]
UTILITY TECHNIQUES:
None.