Post by Ticoga on Jan 2, 2021 22:54:07 GMT -6
From the depths of space, a massive, round starship slowly comes into view as his exits the shadow of Jupiter on its course towards the Earth.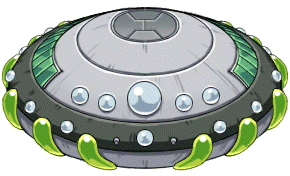 "Mister Ticoga, we've come out of Jump travel, and have entered the Solar System. We will be arriving at the system's sole inhabitable planet, Earth, in a few minutes." Marma announces, stepping up towards the vessel's command chair, prompting the Arcosian to stand from the seat and float down to the floor.
Ticoga approaches the forward viewport bubble, and gazes out as the ship passes the massive gas giant planet. He clasps his hands behind his back, and narrows his eyes as a small blue marble begins to become visible.
"Sir, are you alright?" Marma asks, setting down a flat device and approaching the Arcosian.
"Fine, Marma. Just... apprehensive." Ticoga admits. "The stories I have heard regarding the Earth hold true. This planet has resisted both the World Trade Fleet and the Saiyan Kingdom. In addition, its own breed of violent crusaders have wreaked hell upon the world, and still its society and protectors persist."
Marma says nothing for a moment, and looks out at the blue marble in the black void of space as it grows larger as they approach.
"The Earth is a dangerous world." Ticoga continues. He grins. "However, it is also host to the primary reason I have decided to come here."
Marma frowns and looks at the Arcosian.
"Must be something worthwhile, if your willing to risk it." Marma states tentatively.
"Oh yes, this planet hosts the greatest prize I could possibly hope for; a prize indeed worth facing this planet's dangerous warriors..." Ticoga says, raising his hands palm up as the planet grows from the size of a marble, to now filling the massive viewport. "This grand thing I speak of, that even the Saiyans could never ignore..."
Marma gulps silently, and the bridge crew all seem captivated as well by Ticoga's dramatic pause.
"...Is a nearly unlimited variety of cooking recipes!" Ticoga announces, causing the crew to wince from the statement.
"...R...Recipes...?" Marma repeats, incredulous. "Here I thought it was going to be something profound."
"Come now, Marma, your ability to taste still remains. Surely you understand the intrinsic wonder of culinary variety." Ticoga retorts, a bit disappointed in the lack of energy from the crew. "I say it is a wonderful prize to seek. The things I could cook, bake, and boil to tasteful perfection is nearly unlimited with the knowledge stored on this world."
Grinning, Ticoga orders the massive ship to enter Earth's atmosphere. Without a doubt, the massive vessel would not go unnoticed; hopefully his arrival here would go a bit less combative than his return to Arcose. Choosing the city with the largest spaceport, the
Direption
's landing legs extend outwards like many claws reaching outwards. Finding the largest area, the helmsman settles the ship down.
Below the forward viewport bubbles, a long boarding ramp extends to the ground, allowing Ticoga and Marma to depart down the long ramp. Ticoga steps off, and smiles friendlily as a few humans approach, flanked by what Ticoga assumed to be combat model androids. The crimson Arcosian brushes off dust from the front of his battle jacket and waits.
A general greeting is offered, as well as a request from the planet's leadership to conduct themselves respectfully and peacefully. Agreeing to these simple terms, Ticoga and Marma are allowed to enter the city - though the rest of the crew go about general diagnostics and refueling.
Fifteen minutes into their walk, Ticoga spots a wide window storefront displaying images of different trinkets, but mostly items of vanity so they move on. There is a busy bustle about the folks, and Ticoga's scouter kept going haywire with massive battle power readings. So much so, that he had to turn off the device's autoscan warning feature.
Eventually, the two come upon a park, and Ticoga quietly observes the various beings milling about aimlessly.
"Odd... why are these humans just... moving around, not accomplishing anything?" Ticoga mutters, confused.
"Oh, they're just enjoying the day, sir." Marma replies with a smile.
"Enjoying the day?" Ticoga repeats, slightly tilting his head. "On a planet that has a day time length of eight to ten standard hours for every rotation? An odd thing to blissfully enjoy."
"Different folks, Ticoga." Marma replies, trying out referring to him without the mister. To her surprise, Ticoga didn't seem bothered, or even noticed it. "You keep saying you don't get recreational enjoyment; so why don't we take a little bit to just... enjoy the day? Do what the Earthlings are doing, I mean. Walk around, feed the fauna, observe the flora and such."
"Hmm... I suppose there's merit to that. Though this planet cannot possibly have a sale probability." Ticoga replies. He looks at Marma, who frowns, and offers a smile. "Sorry, that was my attempt at a joke. I suppose I still have work to do with that."
---
Ticoga is in Form 1

Stats:
PL:55,868
HP: 0/300%
KP: 3/3

Marma's Stats
PL: 5,000
HP:0/300%
KP:3/3

Items in use:
Scouter (Purple)
Battle Armor